When you think of things to do in the fall, know that My EasyFi will give you the best ideas for the whole season.
When leaves start falling, and the wind blows cold, you know that autumn has arrived. It's the season of festivities, where you have plenty of time to spend with family. People take on several activities – from pumpkin picking to DIY Halloween creations – to make the most out of the crunchy leave season. But if the budget goes out of hands, the fun of it all could g pretty sour in no time.
However, if you're saving big and enjoying the fall seems like a far-fetched idea, you can still pull some nifty ideas out of your sleeve that don't cost you a dime. That's true. Besides spending  money on expensive shopping and vacation, this time of the year could provide one of the best experiences with a budget-friendly approach.
Wondering what super fun ideas you could use up? We've picked and listed 36 budget-friendly things to do in the fall. There's so much to do and so little to spend. Check out these ideas below:
1. Bake Some Treats
We know it's the season where apples and pumpkins pop out from everywhere. Gather the kids and grab your baking essentials. Baking seasonal cookies and pies would be so much lovely!
2. Visit A Farm
It's one of the classic things to do in the fall that kids and adults love alike. Make it a day by going to the farm and have fun picking to your heart's content.
3. Decorate Pumpkins
If you don't know how to decorate pumpkins, get online on YouTube, and search for some DIY tutorials to paint or carve the pumpkins to your heart's desire.
4. Create DIY Halloween Décor And Costumes
Good Halloween costumes can be expensive. But that doesn't mean you can't use your creative skills to make one. Grab some essentials and get started.
5. Go For A Hike
Enjoy fall to the fullest by exploring nature in your area. Go on a hike or explore camping grounds for a long weekend to take a break for a while.
6. Snuggle Together For A Story
Gather the family together under one blanket and grab some classic fall stories to tell. If you're in for some thrill, add some popcorn and hot chocolate and get some spooky stories.
7. Organize A Movie Night
If you want to make stories fun, get visual. Call the family and friends and live the holiday spirit with some favorite Halloween movies.
8. Arrange A One-Dish Party
Again, call your friends or family or your neighbors and set a date to arrange a party where everyone brings their favorite dish. This will be one of the most enjoyable things to do in the fall.
9. Bring Out The Board Games
Whether you like Scrabble or Monopoly or Dungeons & Dragons, staying indoor with a favorite game of your choice with family around could give the best feeling in the world.
10. Attend Local Festivals And Carnival
Every town has something special going on in the fall season. Maybe your town celebrates some festivals too, like the apple show or carnivals. Catch the drift with the flyers around the city.
11. Make Homemade Pumpkin Snacks
From pumpkin spice pies to roasting pumpkin seeds, you can even use the spice mix for cookies, hot chocolate drinks and so many snacks to keep the holiday fun alive.
12. Go For Leaf Collection
The trees shed leaves, and the pile is right there. Jump right at it and search for the unique leaves that catch your eye. Either stick them in your leaf journal collection or use them in some DIY craft.
13. Recreate A Special Recipe
If you're bored and are out of ideas, you may try to recreate a special recipe that your grandma used to make or cook something vintage.
14. Stay Up Late For Stargazing
Of all the best things to do in the fall, staying up late with a telescope in hand can become a new habit. You can even lie in the backyard and watch the stars.
15. Watch Out For Weekend Events In Town
Towns usually have weekend events that keep everyone engaged. Whether it's a tournament or a ball game, take the kids with you and have fun cheering your favorite team.
16. Visit Antique Shops And Thrift Stores
During the fall, antique stores and thrift shops become more attractive. The best part about these is that you don't need to spend much to get the best item.
9. Go Camping
Everyone has to take a break sometime, so why not take the kids camping at the nearby hills or the woods? It might be the best time to fulfill your senses.
18. Make Your Popcorn At Home
Buying popcorn at the theatre, carnival, or the local festival can cost you a lot. Instead, make your popcorn and take it with you.
19. Go For A Long Walk/Drive
We've listed camping and hiking, but nothing beats the autumn blues other than a long walk or drive. You may drive around the town outskirts and take a stroll there to release the city stress.
20. Create A Bonfire In The Backyard
Having a cozy fire in the backyard with family and friends gathered around roasting marshmallows is the best feeling in the world. For that, you can have a DIY fire pit at a reasonably inexpensive rate.
21. Clean Up Your Closet
It might not seem like the best idea, but cleaning your closet this season can give you a sense of relief. If you have old clothes, donate them and free space in your wardrobe.
22. Rent A Movie Projector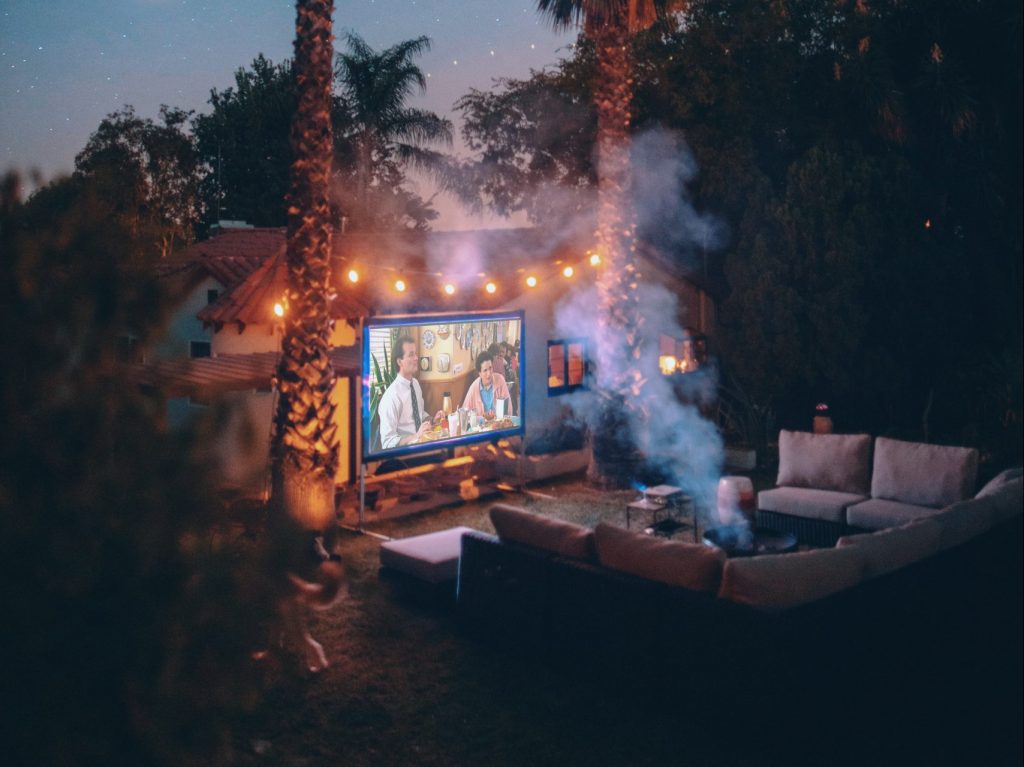 If you're in for outdoor movies, renting a projector and your favorite film sounds like the best idea. You'll see how such things to do in the fall like can flare up the joy.
23. Host A Contest
Missing the contests much? Hold your own. Invite people to your place and have a competition for anything you like, such as pet grooming, DIY creations, pie eating, or pumpkin crafts.
24. Play In The Fall Leaves
You may rake the fallen leaves into a pile, but jumping on them and playing holds the real fun. It might get messy, and you may want to gather again, but it's worth the fun.
25. Create Your Recipe For Hot Chocolate
Are you an avid chocolate lover? Try different recipes for hot chocolate by searching the web or asking others around. Shuffle the ingredients and create your special mix.
26. Have A Bake Sale
Good at baking? Take a chance at a bake sale. It's one of the budget-friendly things to do in the fall that can help you earn and live your passion all along.
27. Visit A Haunted House
Since Halloween is the most fun part of the fall, not visiting a haunted house would be a sin. Call your friends and let the spook adventure begin with some holiday excitement
.
28. Explore Your Town
The town you live in must have places that you may have heard of before. Get a map and explore different places like the woods, the museum, the library, the art gallery, and other such sites you haven't seen.
29. Go For A Picnic
Nothing beats a nice picnic with family out in the green. Treat yourself and your family with some favorite delicacies and refresh your senses.
30. Have A Cook-off
At your home, host a cook-off of seasonal dishes. Being the host won't cost you much as your friends will bring their ingredients, while you can provide some crockery items and a prize.
31. Get Some Yard-work Done
If you can't take out time to water your plants or can't mow the lawn, autumn might the just the right season to pay attention to your garden.
32. Visit A Corn Maze
Getting lost in the corn maze is an exciting feeling. Take your kids to the corn maze and play hide and seek. Fun memories are a guarantee.
33. Get In Touch With Community
Autumn offers several cost-free activities for people to enjoy. You can meet your neighbors at different festivals and make plans for gathering. Such meetups will develop a bond of trust and respect.
34. Plant Some Seeds For The Spring
If you're paying attention to the garden, then plating a few seeds or flower bulbs for the next season might be a productive way to utilize your time.
35. Learn A New Skill
Oh no, you don't have to pay a hefty course fee just to enroll in a skill you're interested to learn. You can find courses or other skills online for free.
36. Be Thankful
The list of things to do in the fall will never end, which is why you should keep thankful for the time and relationships you have. Practice gratefulness, and you'll see how amazing this season will get for you.